Part of the joy of living on the Palouse is our communities. Most places in the country don't give you such a wide range of different places to live! On the Palouse, we have a small town for everyone. Some people choose to live in Moscow or Pullman. Its pretty convenient to run down the street to walmart or McDonalds.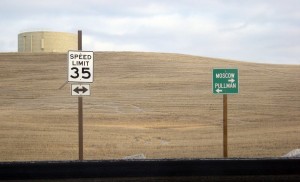 When you wake up at 3 am craving a Snickers you can get it at a half dozen gas stations in either town. And WSU and U of I are "just down the street" if your feeling like watching a game or going to the world renowned Jazz Fest. Even as our "big cities" Moscow and Pullman provide a pace of life much different from most places in lower 48. Everything seems to be a bit more relaxed, even with our huge changeover of students every couple years. Moscow and Pullman are great, but what really makes the Palouse shine is all of our little towns! Sometimes off the beaten track and difficult to find, our small towns are where the local action happens. Our farmers keep these little towns afloat, and they all have a special character all their own.
This series is all about small towns like Colton, Oakesdale, Tekoa, Rosalia. These little towns make the Palouse a great place to live! Over the next several weeks Im going to introduce you to these small towns with a bit of history, and the latest "goings ons." You never know when the adventure bug is going to hit! Maybe you will enjoy a trip out to Palouse Falls (its always shocking people don't know we have an amazing waterfall)? Maybe you will stop in to McCoy Valley Museum (you will need more then a Google search to find it)? All in all, I hope to give you a better taste of what life is like when you take a step back and enjoy a bit more relaxed pace. Most of us love living here because of the pace of life, and there is a town for every taste!
So sit back, relax, and read for a bit. I'll present you with a TV show worth of interesting tid-bits about our communities and life. Who knows, you might just find a town better suited to your tastes. When the time comes call me. I know all about it.