Getting first time directions to Oakesdale is closely akin to a treasure hunt. Some people might tell you the best way to get there is a GPS (don't tell any of our farmers, they will laugh at you). From Pullman, you head up 195 out past Colfax, there is ONE sign for where you turn right and it takes you into town. If you miss the sign you will get to Steptoe. Don't do that. Getting to Oakesdale from Steptoe is a pain. On the Moscow Side you head to Palouse and stay on 27 until you show up in town. Coming in from Moscow or Pullman you see the traditional grain bins and train tracks of a normal farming town. It isn't until you drive past the train tracks that you see where everyone lives. The town is kind of nestled on a knoll that slopes down into the farm grounds.
Oakesdale is the heart of the Palouse. When I think of Wheat fields and Palouse life, its almost a perfect picture from here. The town proper is supported by farms and it shows The land is rich and fertile, growing wheat, peas, and lentils year round. During the different times of years the fields change colors and make for great photos across the landscape.
The town itself hasn't really changed much the last 50 years. I found this photo on the town's website.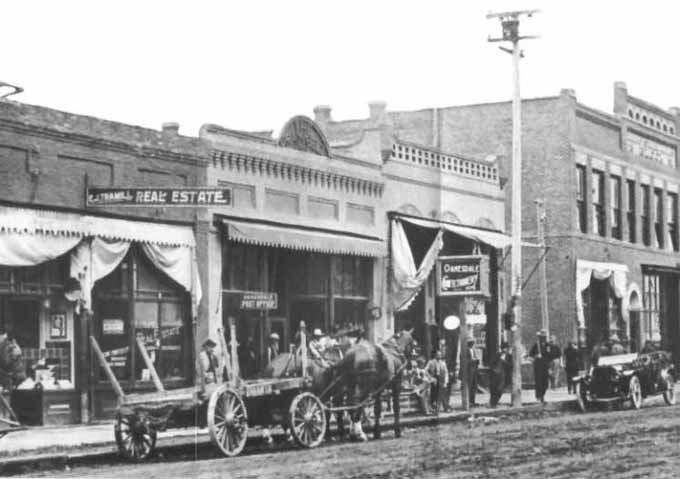 Amazing isn't it? Palouse (the town not the region) has the same older town vibe, and I like it. The businesses here are all stable and established. Crossett's Food Market is a staple of the town, and functions as a built in "Yelp." If you need to find someone while out there (phone books aren't very helpful when the streets don't have signs) anyone at Crossett's can help you out. Ag associates and McGregor are out here as well. If you catch them on a good day (usually in the spring) several farmers will be discussing the latest yields and crop concerns. If you have never been privy to one of these discussions I would recommend dropping in on one. No one knows the land better then a farmer and often you will learn a thing or 20.
Admittedly, Oakesdale is not a bustling hub of activity. Thats not the point. This town has a purpose and its not lolly gagging. The town upkeeps a museum and Steptoe State Park is about 7 miles outside town. I think exploring the roads and fields around Oakesdale is the most rewarding activity. It really helps better define your understanding of the Idaho landscape, a skill we should all acquire.


The Oakesdale school has been here forever and is led by Dr. Jake Dingman. You need a local to tell you how to get there (the road up to the school is hidden off 27) but they occupy a nice spot on top of the hill. The school often posts up when there's a game (go Nighthawks!) or community event. They really function as the Oakesdale Chamber of Commerce. You can also check-in with one of the three local churches. They always know what is going on in town.
Oakesdale be one of our smaller towns, but they are big on community.