To non- locals, Rosalia is a town you can't even see from the highway. Oftentimes, people will see the sign and just keep on going; there are a bunch of small towns to skip right? While it may be small, Rosalia is chock- full of passionate people who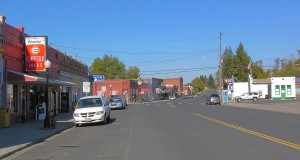 love to live there. And person for person, they have more events each year than most of our other small towns combined. Let's just take a brief stop in to see what they're about.
Rosalia's first stop in history was actually a battle! It was the center of conflict between Colonel Steptoe, and The Coeur d'Alene tribe in 1858. 20 Years later as settlers began to move in, one especially entrepreneurial one named T.J. Favorite founded the town and named it after his wife Rosalia.
Today, Rosalia is home to roughly 500 faithful townspeople, who keep up with their history and fun. Each year there are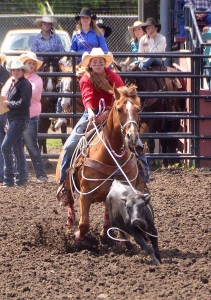 several events that are worth a look in Rosalia. One of the local's favorites is Battle Days. Each year, there are several events (including a parade with floats from the schools) that memorialize the battle that took place 150 years ago. While there for the parade, you have to make sure to check out the Battlefield. It really brings history to life to see where thesethings actually took place! Each year, they also have the Rosalia rodeo. It's the town's chance to really have the residents come out and strut their stuff. They have the typical 4H events, as well as local competitions for prizes and fame (at least on a small scale)! If you're out here a bit closer to Autumn, stop in for the Fall Festival. Kind of like the Palouse Empire but on a more intimate scale, the festival is a great way to connect with people for some great food and conversation. If you have kids, they also host a yearly Easter egg hunt in town that your kids would be happily welcomed to attend!
While my knowledge only goes so far, Rosalia keeps their visitor center well-stocked with helpful information about the town and events, so feel free to stop in for more info. The volunteers would love to see you!
Quite a lot of personality for a "bump" in the road. Make sure and give Rosalia a visit. They will love to see you.
Getting first time directions to Oakesdale is closely akin to a treasure hunt. Some people might tell you the best way to get there is a GPS (don't tell any of our farmers, they will laugh at you). From Pullman, you head up 195 out past Colfax, there is ONE sign for where you turn right and it takes you into town. If you miss the sign you will get to Steptoe. Don't do that. Getting to Oakesdale from Steptoe is a pain. On the Moscow Side you head to Palouse and stay on 27 until you show up in town. Coming in from Moscow or Pullman you see the traditional grain bins and train tracks of a normal farming town. It isn't until you drive past the train tracks that you see where everyone lives. The town is kind of nestled on a knoll that slopes down into the farm grounds.
Oakesdale is the heart of the Palouse. When I think of Wheat fields and Palouse life, its almost a perfect picture from here. The town proper is supported by farms and it shows The land is rich and fertile, growing wheat, peas, and lentils year round. During the different times of years the fields change colors and make for great photos across the landscape.
The town itself hasn't really changed much the last 50 years. I found this photo on the town's website.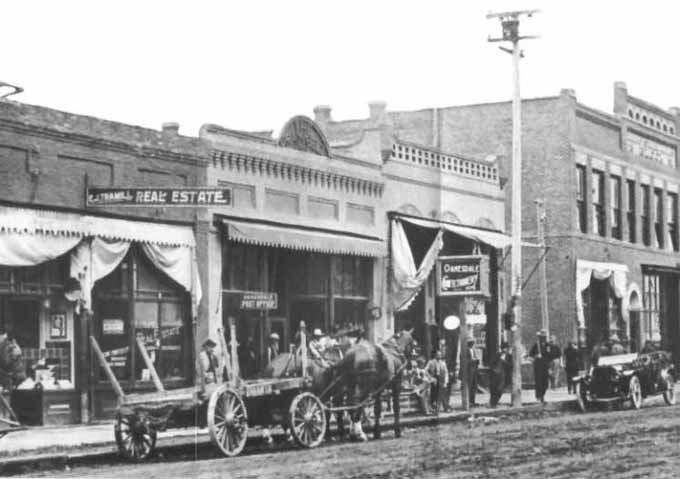 Amazing isn't it? Palouse (the town not the region) has the same older town vibe, and I like it. The businesses here are all stable and established. Crossett's Food Market is a staple of the town, and functions as a built in "Yelp." If you need to find someone while out there (phone books aren't very helpful when the streets don't have signs) anyone at Crossett's can help you out. Ag associates and McGregor are out here as well. If you catch them on a good day (usually in the spring) several farmers will be discussing the latest yields and crop concerns. If you have never been privy to one of these discussions I would recommend dropping in on one. No one knows the land better then a farmer and often you will learn a thing or 20.
Admittedly, Oakesdale is not a bustling hub of activity. Thats not the point. This town has a purpose and its not lolly gagging. The town upkeeps a museum and Steptoe State Park is about 7 miles outside town. I think exploring the roads and fields around Oakesdale is the most rewarding activity. It really helps better define your understanding of the Idaho landscape, a skill we should all acquire.


The Oakesdale school has been here forever and is led by Dr. Jake Dingman. You need a local to tell you how to get there (the road up to the school is hidden off 27) but they occupy a nice spot on top of the hill. The school often posts up when there's a game (go Nighthawks!) or community event. They really function as the Oakesdale Chamber of Commerce. You can also check-in with one of the three local churches. They always know what is going on in town.
Oakesdale be one of our smaller towns, but they are big on community.
Part of the joy of living on the Palouse is our communities. Most places in the country don't give you such a wide range of different places to live! On the Palouse, we have a small town for everyone. Some people choose to live in Moscow or Pullman. Its pretty convenient to run down the street to walmart or McDonalds.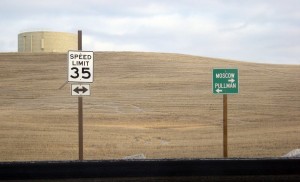 When you wake up at 3 am craving a Snickers you can get it at a half dozen gas stations in either town. And WSU and U of I are "just down the street" if your feeling like watching a game or going to the world renowned Jazz Fest. Even as our "big cities" Moscow and Pullman provide a pace of life much different from most places in lower 48. Everything seems to be a bit more relaxed, even with our huge changeover of students every couple years. Moscow and Pullman are great, but what really makes the Palouse shine is all of our little towns! Sometimes off the beaten track and difficult to find, our small towns are where the local action happens. Our farmers keep these little towns afloat, and they all have a special character all their own.
This series is all about small towns like Colton, Oakesdale, Tekoa, Rosalia. These little towns make the Palouse a great place to live! Over the next several weeks Im going to introduce you to these small towns with a bit of history, and the latest "goings ons." You never know when the adventure bug is going to hit! Maybe you will enjoy a trip out to Palouse Falls (its always shocking people don't know we have an amazing waterfall)? Maybe you will stop in to McCoy Valley Museum (you will need more then a Google search to find it)? All in all, I hope to give you a better taste of what life is like when you take a step back and enjoy a bit more relaxed pace. Most of us love living here because of the pace of life, and there is a town for every taste!
So sit back, relax, and read for a bit. I'll present you with a TV show worth of interesting tid-bits about our communities and life. Who knows, you might just find a town better suited to your tastes. When the time comes call me. I know all about it.